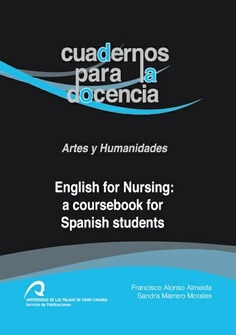 English for Nursing: a coursebook for Spanish students
La Universidad de Las Palmas de Gran Canaria está convencida de la necesidad de laborar materiales docentes asequibles y de calidad para dinamizar y facilitar los procesos de enseñanza y aumentar el éxito académico de los estudiantes. Para lograr este objetivo, se ha creado la colección Cuadernos para la docencia compuesta por estudios básicos sobre los contenidos de las diferentes materias o asignaturas que se imparten en los títulos de la ULPGC.
Esta línea de publicaciones pretende convertirse en una herramienta útil para los estudiantes que les permita abordar los procesos de aprendizaje con materiales estructurados a partir de un diseño común y contenidos rigurosos. Al mismo tiempo, nos pone en el camino de la mejora de los programas formativos que ofrecemos a la sociedad.

The University of Las Palmas de Gran Canaria is convinced of the need for affordable and quality educational materials to facilitate the teaching process and enhance the academic success of students.
To attain this goal, we have created the collection Cuadernos para la docencia that consist of general studies on contents of the various subjects taught in the degrees of the ULPGC.This series of publications intended to become a useful tool for students that enable them to deal with the structured learning processes from a common design and rigorous contents. At the same time, puts us in the way of the improvement of training programs we offer to society.

LUniversité de Las Palmas de Gran Canaria est convaincue du besoin délaborer des matériels denseignement abordables et de qualité pour dynamiser et faciliter les processus denseignement ainsi quaugmenter le succès académique des étudiants.A fin dy arriver, nous avons crée la collection Cuadernos para la docencia1, composée détudes essentiels sur les contenus des différentes matières dispensées dans les diplômes de la ULPGC.
Cette ligne de publications a comme objectif devenir un outil pratique pour les étudiants qui les permette aborder les processus dapprentissage avec des matériels structurés à partir dun dessin commun et des contenus rigoureux. Au même temps, ceci nous situe dans le chemin de lamélioration des programmes formatifs que nous offrons à la société.
Precio
Edición en papel
10,00 €
Contenidos
CONTENTS PRESENTACIÓN CUADERNOS PARA LA DOCENCIA
INTRODUCCIÓN
TOPIC I. LET'S GO BACK TO WHERE IT ALL STARTED!
1.1.Warming Up!
1.2.A short history of nursing
1.2.1.Reading Comprehension
1.2.2.Word definition
1.2.3.Increasing your vocabulary
1.3.Nursing as a profession
1.3.1.Increasing your vocabulary
1.3.2.Completing sentences
1.4.Practice settings
1.4.1.Filling gaps
1.4.2.Descriptions
1.4.3.Follow Up!
1.4.3.1.Joining sentences
1.4.3.2.Looking up words in the dictionary
1.4.3.3.Finding out information
1.4.3.4.Writing task
2.One step into grammar! The Passive Voice
2.1.Giving the past participle of the verbs
2.2.Supplying the passive forms of the sentences
2.3.Giving the correct forms of the verbs
2.4.Supplying the active forms of the sentences
TOPIC II. THE HOSPITAL SETTING
1.1.Warming Up!
1.2.The hospital & its medical departments
1.2.1.Reading Comprehension
1.2.2.Definitions
1.2.3.Check your understanding
1.2.4.Increasing your vocabulary
1.2.5.Synonyms
2.Emergency Department
2.1.Reading Comprehension
2.2.Definitions
2.3.Identifying words in the text
2.4. Giving references of pronouns
3.Major Medical Departments
3.1.Matching Exercise
4.The Ward Unit
5.The Medical & the Nursing staff
5.1.Definitions
5.2.Translation
5.3.Completing the box
6. Types of nurses and their roles
6.1.Filling gaps
7.Nursing specialties
7.1.Translation
7.2.Reading
8. One step into grammar!
Articles
TOPIC III. THE HUMAN BODY
1.1.Warming Up!
1.2.The Human Body
1.3.Organization of the human body: systems
1.3.1.Reading Comprehension
1.3.2.Completing sentences
1.3.3.Matching exercise
1.3.4.Increasing your vocabulary
1.3.5.Word definition
2.Basic anatomical terms
2.1.Body movements and directional terms
2.2.Body positions
2.3.Body cavities and membranes
2.3.1.Reading Comprehension
2.3.2.Matching exercise
2.3.3.Translation
2.4.Body Planes
3.One step into grammar! Relative clauses
TOPIC IV. THE PATIENT
1.1.Warming Up!
1.2.The Patient. Reading Comprehension
1.3.Writing task
1.4.Transformation
2.Diseases and disorders
2.1.Crossword
2.2.Crossword
2.3.Definitions
3.Describing pain and feelings
3.1.Looking up words in the dictionary
3.2.Descriptions
3.3.Dialogue
4.One step into grammar! Connectors
TOPIC V. PHARMACOLOGY & MEDICAL EQUIPMENT
1.1.Warming Up!
1.2.Pharmacology
1.2.1.Translation
1.2.2.Increasing your vocabulary
1.2.3.Increasing your vocabulary
1.2.4.Word definition
2.Drugs and drug classification
2.1.Reading Comprehension
2.2.Common therapeutic drugs
2.3.Basic term components: prefixes
2.4.Basic term components: suffixes
2.5.Essential medicines
3.Routes of drug administration
3.1.Translation
3.2.Common prescriptions abbreviations and symbols
3.3.Increasing your vocabulary
3.4.Crossword 4.Medical equipment and surgical instruments
4.1.Reading Comprehension
4.2.Definitions
4.3.Surgical instruments. Filling gaps
4.4.Translation
BIBLIOGRAPHY
GLOSSARY