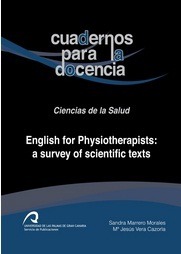 English for Physiotherapists: a survey of scientific texts
Una parte muy importante en la formación del futuro fisioterapeuta reside en el hecho de poder estar al día en su especialidad a través de la lectura de los últimos trabajos en la materia. Generalmente, muchos de estos trabajos suelen estar publicados en inglés, de ahí la necesidad de tener un dominio de esta lengua adaptando tanto sus contenidos léxicos como su gramática a esta especialidad. Este manual pretende ayudar a este fin al tiempo que se les da los futuros profesionales de la Fisioterapia unas pautas sencillas para que a su vez puedan difundir sus propios trabajos.

A very important part in the formation of the future physical therapist lies in being informed on their specialty through the reading of the last publications in the matter. Usually, many of these publications tend to be published in English, hence the need of being fluent on this language; learning both lexical content and grammar for this specialty. This manual aims to help professionals of physiotherapy with simple guidelines so they can also disseminate their own publications in the future.

Une partie très importante de la formation du futur physiothérapeute est liée à sa capacité d'être au courant des nouveautés dans son domaine d'expertise par la lecture des derniers travaux réalisés dans la matière. Normalement, bon nombre de ces travaux sont publiés en anglais, d'où le fait que l'anglais s'impose comme nécessaire et que nous ayons besoin de maîtriser les contenus lexiques et la grammaire adaptés à cette spécialité. C'est justement à cela que ce manuel sert, à nous aider dans la maîtrise des contenus lexiques et grammaticaux au même temps qu'il apporte aux futurs professionnels de la Physiothérapie des règles simples qui les permettent de diffuser ses propres travaux.
Escritor

Escritor

Colección

Materia

Idioma

EAN

9788415424451

ISBN

978-84-15424-45-1

Depósito legal

GC 398-2012

Páginas

148

Ancho

1,7 cm

Alto

2,4 cm

Edición

1

Fecha publicación

27-09-2012

Número en la colección

1
Precio
Edición en papel
9,00 €
Contenidos
PRESENTACIÓN CUADERNOS PARA LA DOCENCIA INTRODUCCIÓN
TOPIC ONE. PROFESSIONAL DEVELOPMENT IN PHYSIOTHERAPY
TOPIC TWO. EDUCATIONAL NEEDS IN PHYSIOTHERAPY AS PERCEIVED BY CLINICAL SUPERVISORS
TOPIC THREE. FACILITATING STUDENT WRITING DURING PROJECT SUPERVISION
TOPIC FOUR. PATIENT PARTNERSHIP AND STANDARS OF PHYSIOTHERAPY PRACTICE
TOPIC FIVE. DEVELOPING THE ETHICS OF PLACEBOOKS IN PHYSIOTHERAPY
GLOSSARY: A SHORT GLOSSARY OF TERMS RELATED TO PHYSIOTHERAPY
BIBLIOGRAPHY